A Workshop On The Art Of Ikebana
September 30, 2020
@
6:00 pm
–
8:00 pm
SOLD OUT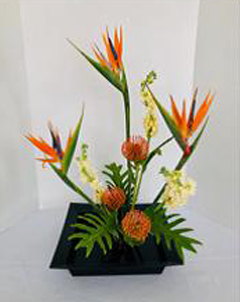 Tired of the hustle and bustle? How about engaging in a refreshing Ikebana
Workshop? Ikebana is the Japanese art of flower arranging. The Ikebana tradition dates back to
the Monks from the Buddhist temples from the 6th Century. The Ichiyo School of Ikebana
believes and states: To encourage participants' personal and discipline interpretation in which
nature and humanity are brought together. In addition to this thought, silence while creating
your arrangement is key to obtaining tranquility. At this workshop each participant will learn
the brief history, important principles to their own Moribana Upright Form arrangement. Each
participant will make one fall arrangement that will include: A container, a Kenzan (frog), and
plant materials.
Please note: The arrangement shown here is a Moribana Upright Form:
Flowers will differ for this workshop.
Instructor Laurie Wareham recently earned her Master Level from The Ichiyo School of Ikebana-Tokyo. She is the current WUMFA (262) Board of Directors representative.
Required Tools: Floral Scissors, a rag/towel, and a flat box 13"x13"x2" or less in height.
Instructed by: Laurie Wareham
Where: Kennicott Brothers – 4831 W State St, Milwaukee, WI 53208
Class date & time: Wednesday, September 30, 2020 – 6:00PM to 8:00PM
WUMFA member price: $40ea. Non-Member Price $60ea.
*Limited to the first 15 students