2023 Hall of Fame Award Winners
WUMFA is pleased to announce the 2023 Hall of Fame Award Winners! The winners were announced and presented their awards at the 2023 Hall of Fame Banquet.

Nominate that special WUMFA member to receive a WUMFA Hall of Fame Award. Click here to nominate someone for a WUMFA Hall of Fame Award.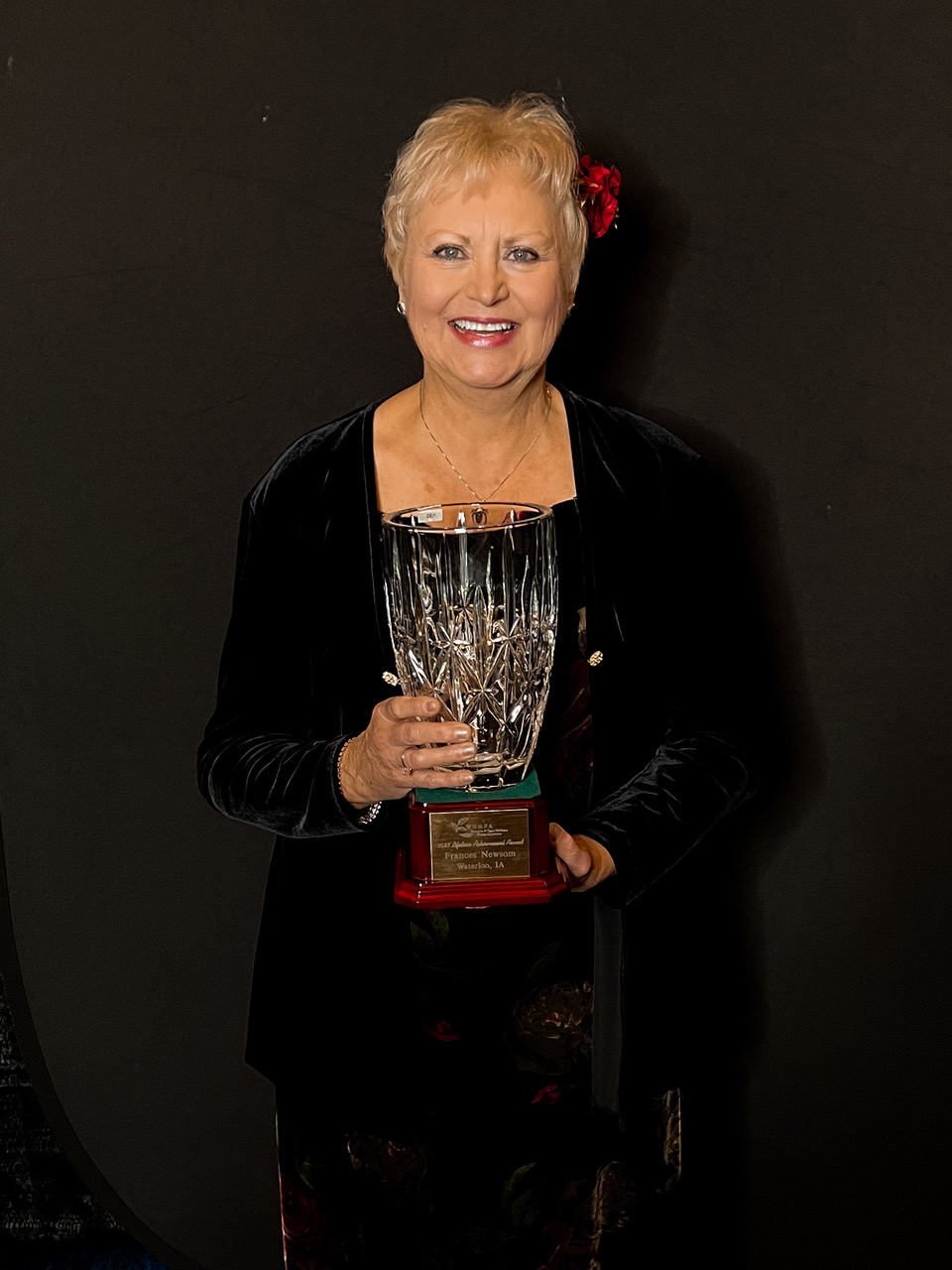 2023 LIFETIME ACHIEVEMENT AWARD
Frances Newsom IMF, Fran's Freelance Florals & Events, Waterloo, IA
This award is given to an individual who has dedicated the majority of their life to the floral industry. Through their love and passion, the industry is better today.
Our award winner for the Lifetime Achievement Award has been in the floral industry for 46 years, who over the years has worked for most of the local florists in her area, as well as being an owner/manager of Design Studio Floral.
Frances joined the Iowa Florist Association since taking her first floral position in 1977, and is now excited to be a part of WUMFA.
She was in the charter class for professional floral certification in Iowa and received her Iowa Master Florist certificate in 2006. As part of IFA, she served as a board member, Vice President and President, as well as the Education Chair for 10 years. Her love for education led her to teach IFA certification classes, as well as mini courses at the University of Northern Iowa. She was selected to oversee the floral installations for several governors' inaugurations, as well became a regular article contributor for various newsletters and newspapers. She has prepared floral designs for Walt Disney Productions major motion picture "Country" as well has been a designer for Bill Doran Company's Waterloo location and Bonnett Wholesale Florist in Illinois for holiday open houses. She has even earned her FIESTA design team jacket for her contributions to the FIESTA Floats Floral Design Team for the Tournament of Roses Parade.
She looks forward to continue being of service to WUMFA, the floral industry as a whole and especially to my clients, community, friends and family.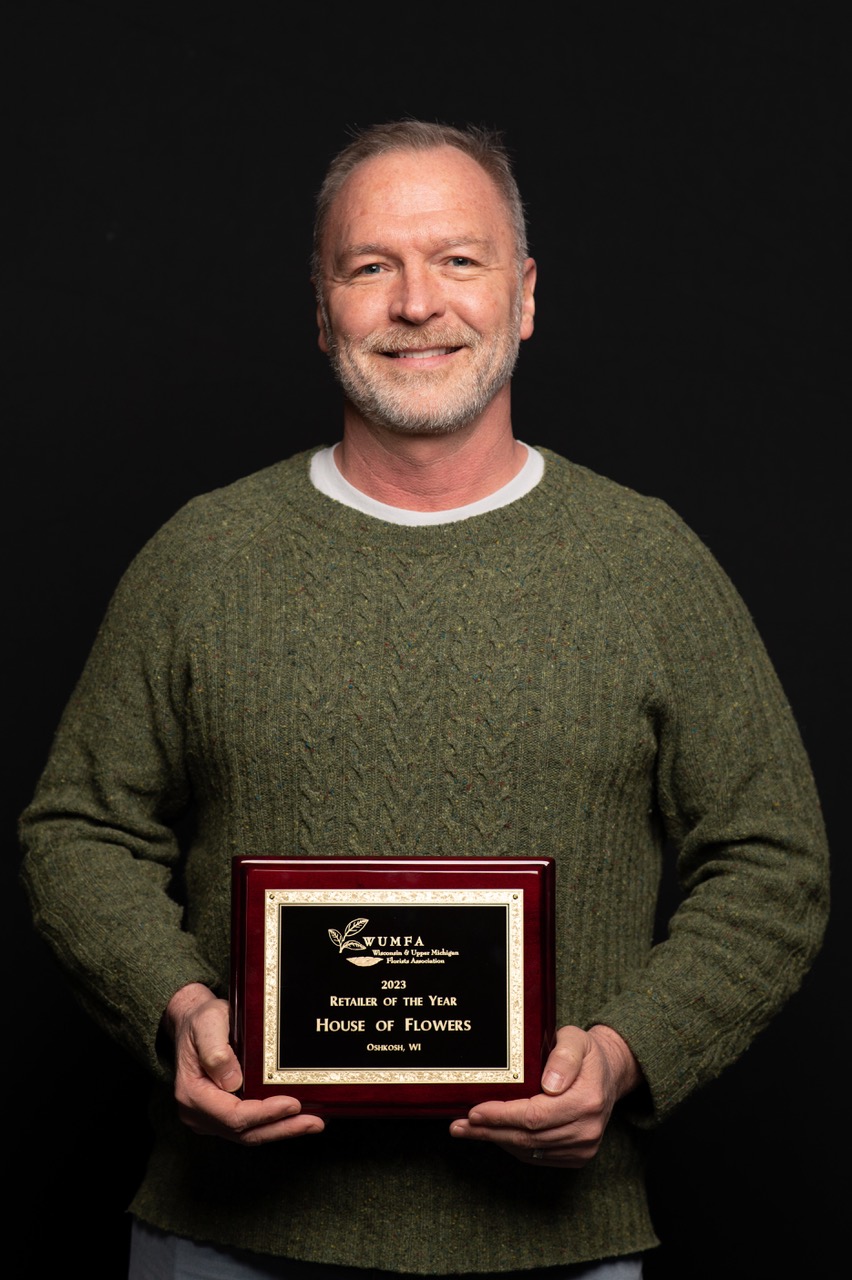 2023 RETAILER OF THE YEAR
Jim Kolb and House of Flowers
Retailer of the Year is Reserved for a member of the Wisconsin Upper Michigan Florists' Association that has done an outstanding job as a florist.
This year we are recognizing a business that was established in 1993 by a 22 year old entrepreneur, and 4th generation floral industry individual.
This independently owned, profit-making enterprise has approximately 20 employees, with more added seasonally, and has been recognized as a top 100 Teleflora member.
They are a member of Teleflora, FTD, the Oshkosh Chamber of Commerce, the Society of American Florists, and of course WUMFA, where they have been a stage presenter at past conferences.
The management team serves their community by serving on steering committees for fundraising efforts for non-profits in their community. The team even appears regularly on morning news programs like Fox 11 and WLUK's Living with Amy.
In 2015 an event rental company was purchased and services expanded, which allowed for one-stop shopping for bridal couples and corporate clients. The addition of these services under one roof is the most extensive in the region and perhaps the state.
Not to rest on their laurels, starting in 2020 an extensive business refresh took place to include brand strategy and visual identity for all branded touchpoints including print, web, digital, store signage, delivery vehicles and more, always looking to delivery consistent messaging to their customers while achieving a seamless shopping experience.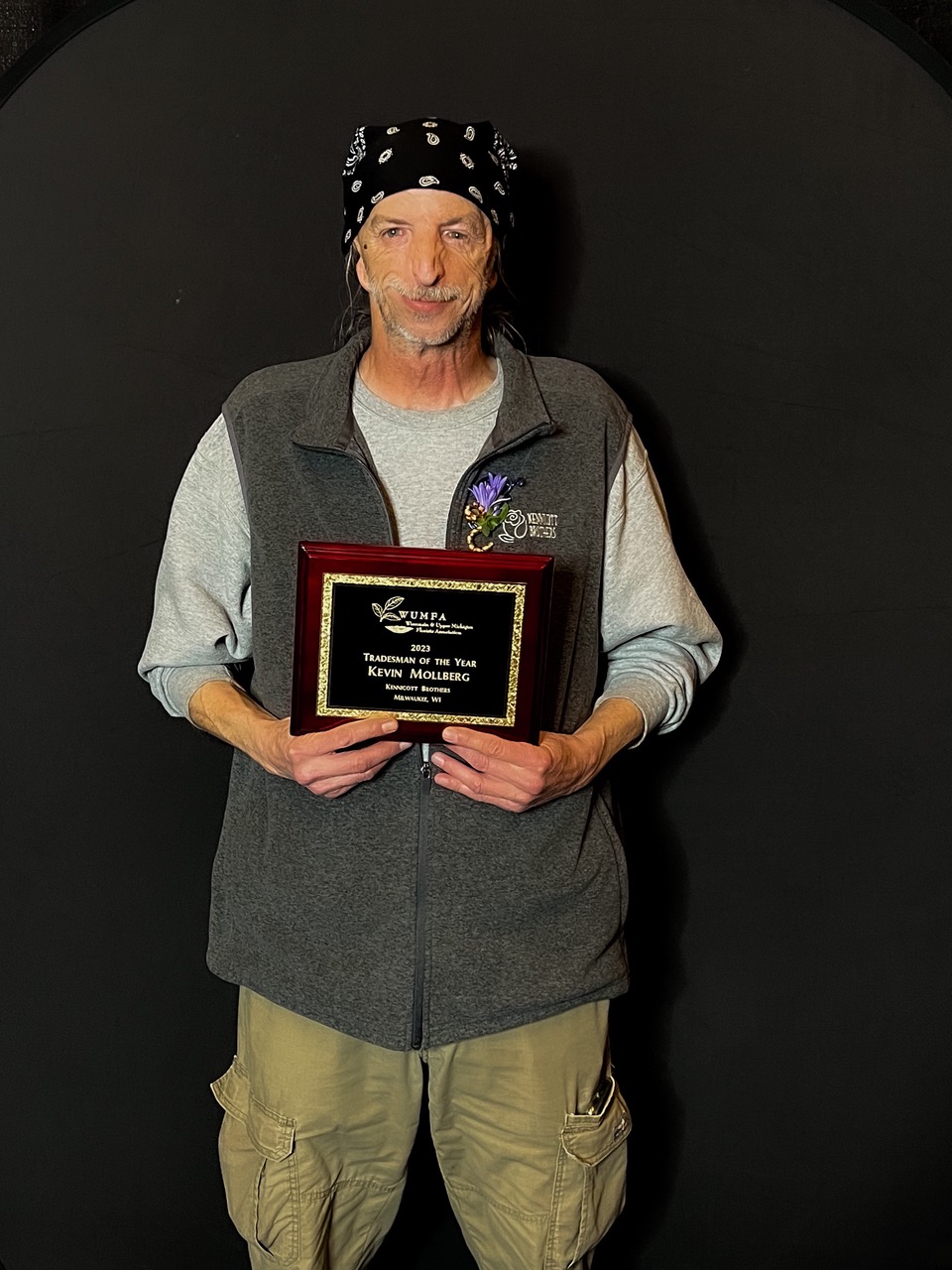 2023 WHOLESALER OF THE YEAR
Kevin Mollberg from Kennicott Brothers Company.
Wholesale/Tradesman of the Year award is given in recognition and appreciation of the unselfish labor and achievement for the advancement of the floral industry within the boundaries of Wisconsin and Upper Michigan.
This year's Tradesman of the Year has been in the industry for over 35 years, working for Kennicott as a driver in both Chicago and Milwaukee. He said loyalty is a two way streak, the company has been loyal to him, so he in turn has returned that loyalty.
His daily duties has him seeing and visiting customers, who over the course of time have become good friends and he values those relationships.
He has seen many changes on his daily road trips over the years, such as watching highway 41 going from a two-lane country highway to the busy multi-lane interstate it is today. But one thing has remained the same. The joy in seeing his customers be successful, and knowing the products he delivers to their doors has played a role in that success.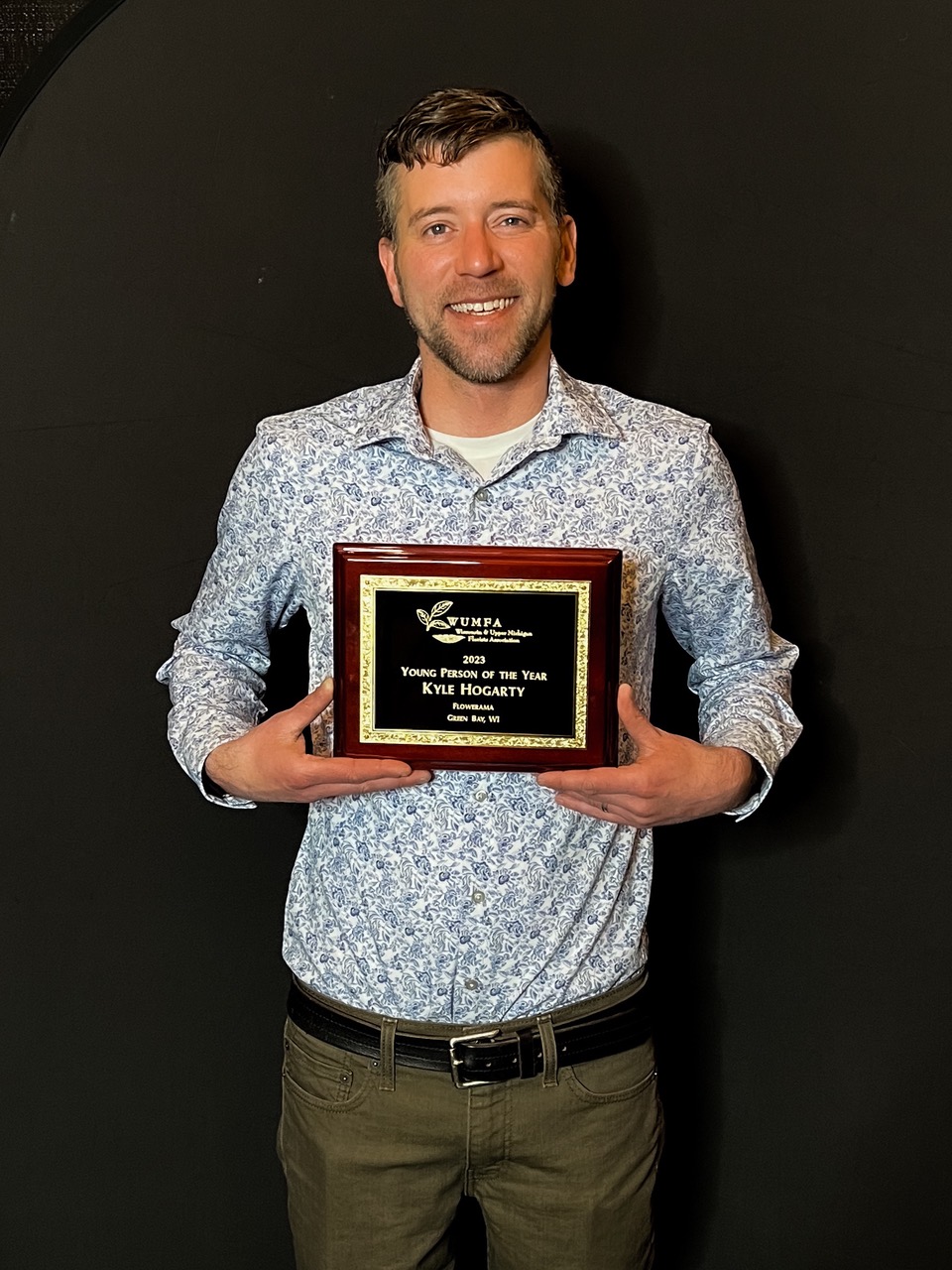 2023 YOUNG PERSON OF THE YEAR AWARD
Kyle Hogarty, Flowerama, Green Bay, WI
Young Person of the Year can be anyone connected with the floral industry  – retailer, wholesaler, grower, allied tradesman or trade organization member – for meritorious service to the floral industry, community, and potential service to the industry and community in the future, who is under 35 years old and has two years in the floral industry.
WUMFA is pleased to recognize Kyle Hogarty from Flowerama of Green Bay, WI as our 2022 Young Person of the Year.
Our award winner has been in the industry for 12 years, beginning his career as a delivery driver in Sturgeon Bay. He and his partner purchased the Flowerama of Green Bay and Appleton three years ago, and joined WUMFA right away to take advantage of what the organization has to offer, participating in design competitions as home shows, convention and the state fair, and now has jumped in to serve on the convention and education committee. The beautiful hotel décor you see for this convention and last, were his concepts and creations. He credits his success to the amazing support received from his family, staff and everyone here.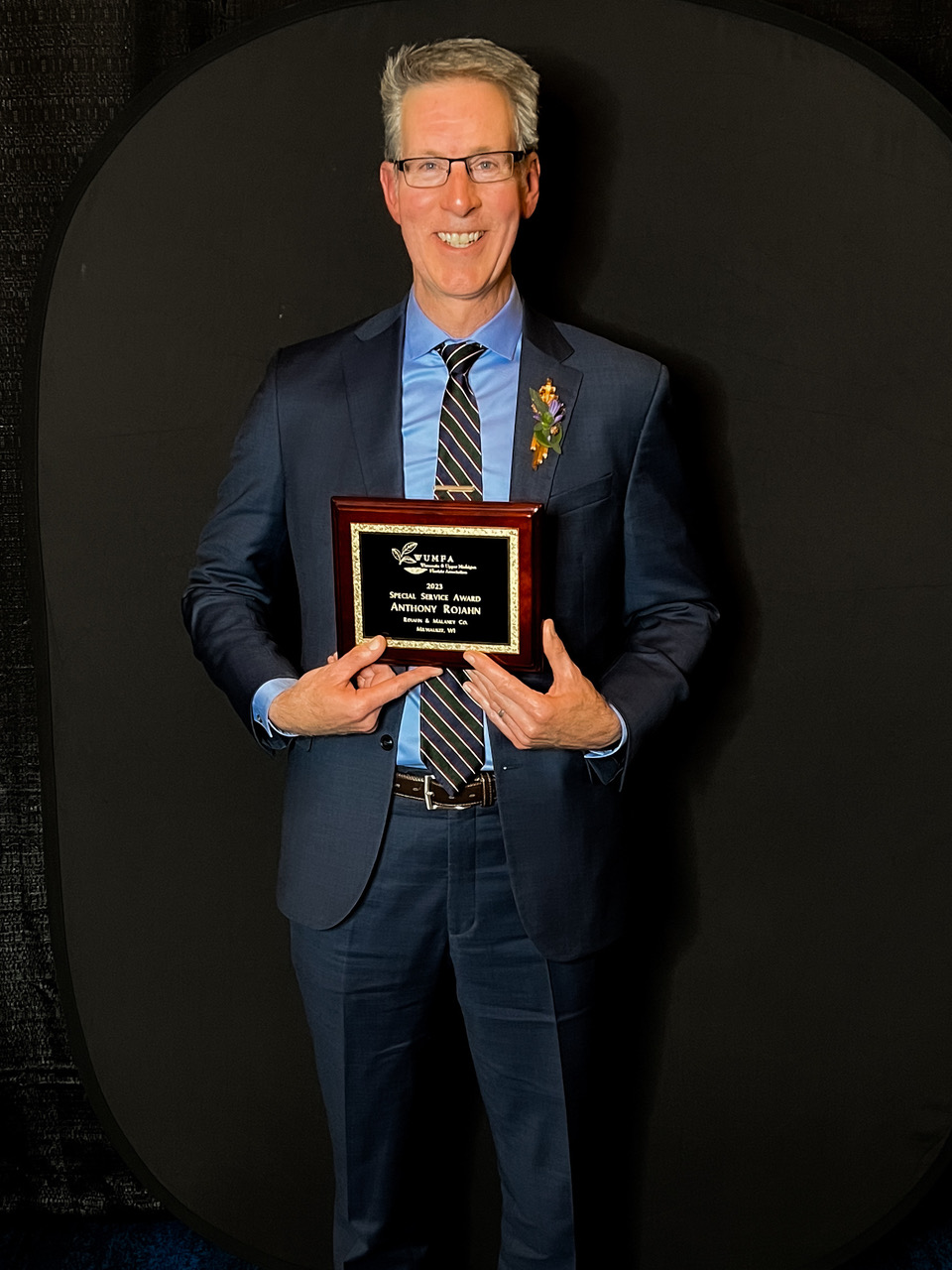 2023 SPECIAL SERVICE AWARD
Anthony Rojahn,  Rojahn & Malaney Company.
Special Service Award – Organizational activity, research or education, retailer, wholesale distributor or allied tradesman. The award might be made to those in these categories for their contribution to the industry and/or the organization.
WUMFA is pleased to recognize Anthony Rojahn with the Special Service Award.
Our honoree has been in the floral industry for 32 years as part of the family business, and a member of our organization for 32 years. His acute attention to detail and head for numbers made him a board member of many different associations within the industry.
He served as a director for WUMFA for two years before moving into the Treasurers role, a position he held for 8 years. His assistance in building the organization's financial reserves were key to WUMFA remaining financially sound thru the COVID-19 pandemic.
This person was also an intracule part of the convention committee serving as the Trade Fair Chair for years, and you always wanted to buy your wing span of raffle tickets from him.
WUMFA isn't the only organization to benefits from this person's talents. He also served as the Secretary/Treasurer of the Young Executives within the Wholesale Florists and Floral Suppliers Assoc (WF&FSA), the Advertising Committee of the Professional Florists Assoc (PFA), and is the current treasurer for the Wisconsin Florist Foundation.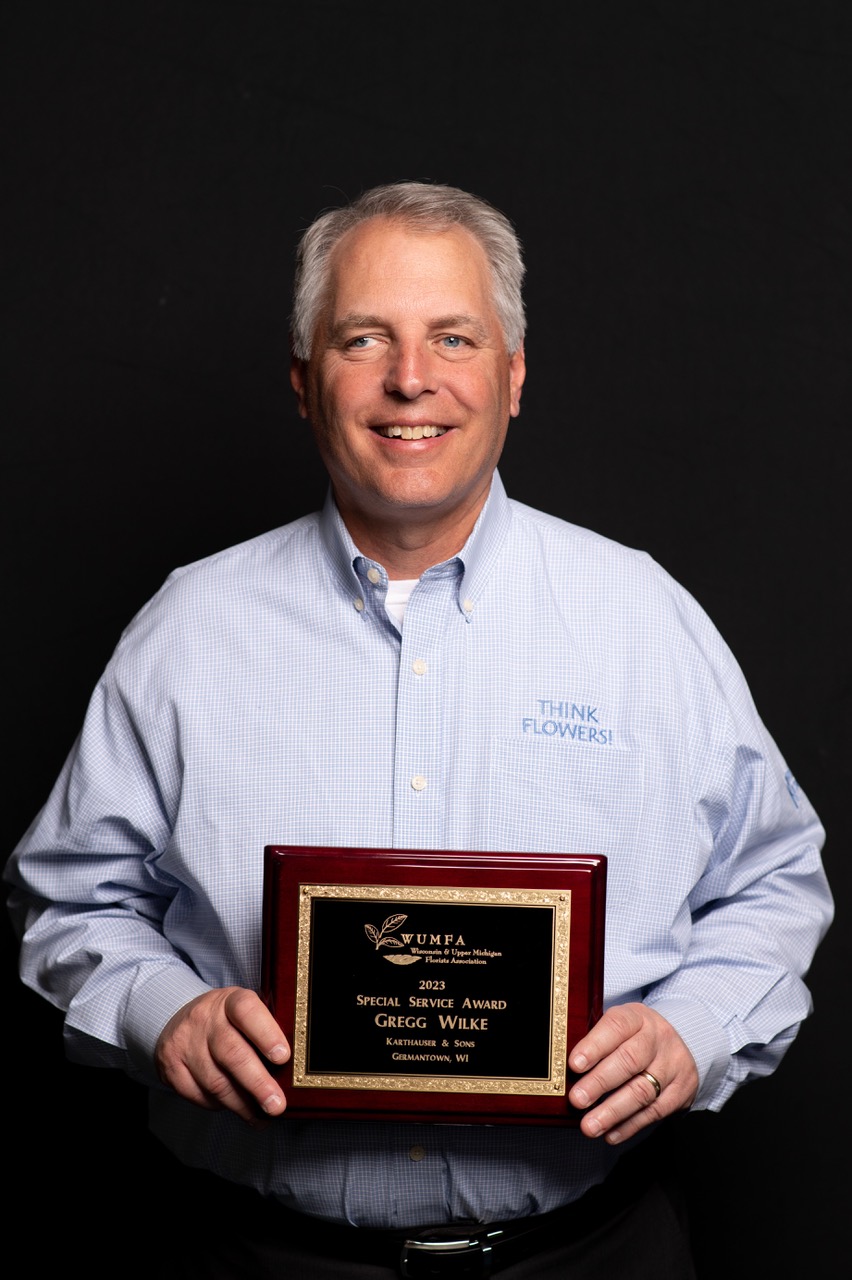 2023 SPECIAL SERVICE AWARD
Gregg Wilke, Karthauser & Sons, Germantown, WI
Special Service Award – Organizational activity, research or education, retailer, wholesale distributor or allied tradesman. The award might be made to those in these categories for their contribution to the industry and/or the organization.
This special service award winner has been in the floral industry for 48 years, and a WUMFA member for 48 years as well.
As a WUMFA member he served as a board member for more than 15 years, including a stint as President and past president, as well as a board member of the Young Florists for 8 years. He also served as a trade fair chair for the convention, as well as serving on the bylaw and procurement committees.
Other organizations have also benefited from his leadership and talents, including the Gateway College advisory board, serving as volunteer at VA hospital around Christmas, Member of Saint Andrews Society. He has also served on Wisconsin Florist Foundation Board for 19 years, including many years as president.
When asked why he does what he does, we received this response. "I have always loved the floral industry and it has made my job a pleasure to do every day.  The friends that I have made in the industry I will always value.  I believe in WUMFA and what it stands for, that is why I have devoted so much time to making sure that it succeeds in the future.  Thank you for this Special Service Award I am honored to receive it."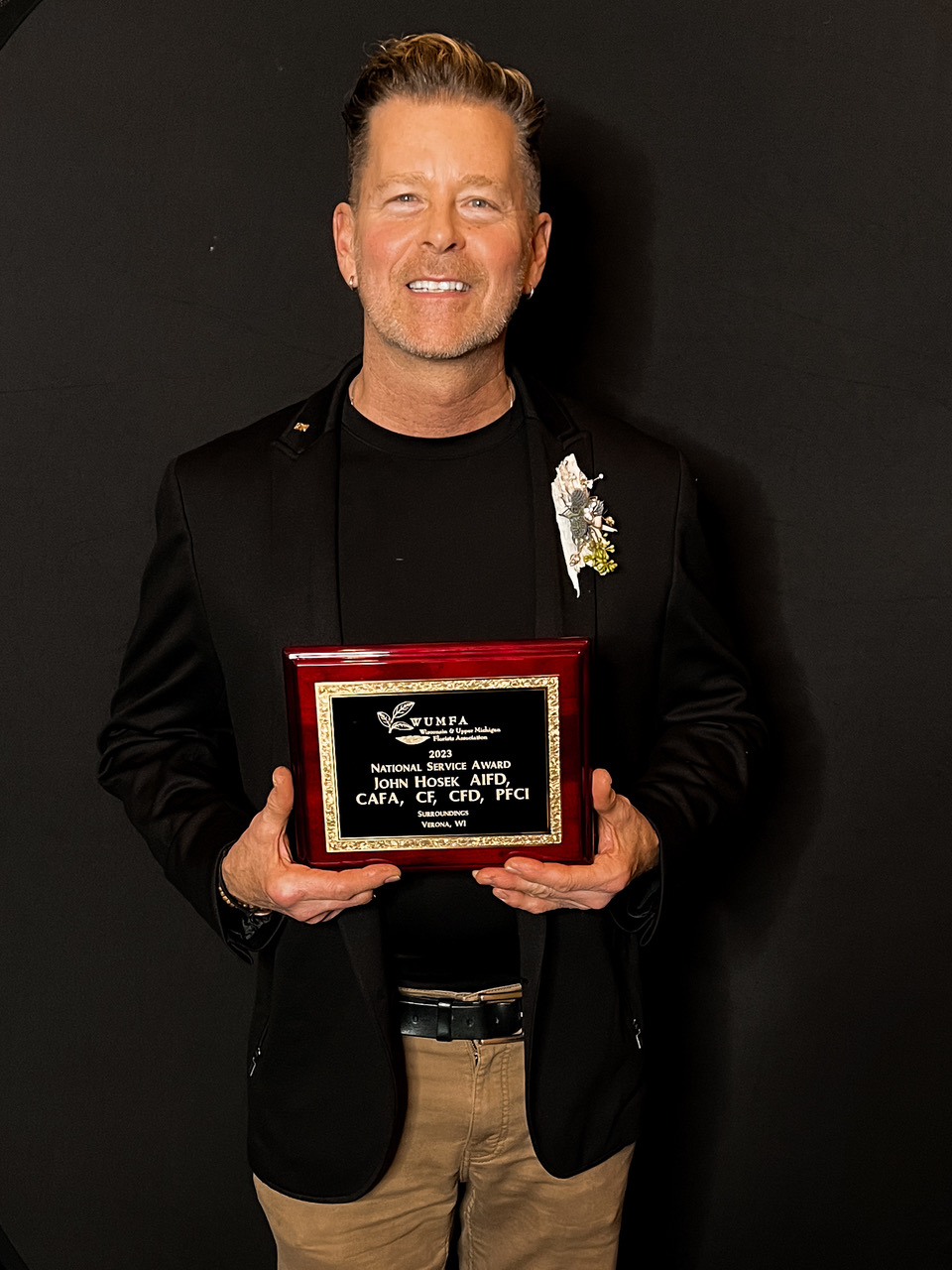 John Hosek AIFD, PFCI, CAFA, CF, Surroundings Events and Floral, Verona WI.
National Service Award can be given to anyone connected with the floriculture industry – retailer, growers, wholesaler, education, plant breeder, etc. – for outstanding service to the floral industry of America.
WUMFA is pleased to recognize John Hosek AIFD, PFCI, CAFA, CF as our 2023 National Service award winner.
Our award winner for National Service is known for his innovative and original style of work and ability to think on his feet. From the young age of 4, his love for flowers began at home, helping his parents plant their gardens, fine tuning his love of "playing" with flowers. With a degree in Supervision and Engineering Graphics from Purdue, he first began selling his floral artistry while employed at General Motors.
His design talents have placed him on top in numerous competitions. He is a national Sylvia Cup winner, Designer of the Year award at the Great Lakes Floral Association annual convention, and was a member of the design team for the Oscars in Los Angeles for 10 years. In addition, his work was commissioned by the U.S. Ambassador to Bermuda.
In 2008, he accepted the invitation to join Teleflora's prestigious team of Education Specialists and in 2010 became a member of Professional Floral Communicators International.
A continuing opportunity takes him to Scotland, where he collaborates with colleagues and many friends to contribute innovative and provocative new floral artistry and techniques to the international magazine Fusion as well as share his ideas with a broader audience. He also introduces new products and techniques to new markets for Fitz Design and Accent Décor, leading hands-on classes and designing for photo shoots and print catalogs